Testimonials from the Parents of Students
"We truly appreciate The Swim Lessons Company's efforts in keeping kids safe in and around the water. I just wanted to pass along this message of thanks to The Swim Lessons Company and its owner Jim Reiser. Our instructor, Ginny Wolfe, who is teaching at your new location at the Comfort Suites in Lexington has been great for our daughter, Carolyn. Ginny realized early that Carolyn's swimming skills were a little out of the ordinary and she was able to adjust her instructional techniques instantly. I In only 2 weeks worth of lessons, Carolyn is making good progress with the butterfly and breaststroke - strokes she has not tried before. Her freestyle breathing has also improved with Coach Ginny's help. This 3 week session is exactly what we needed to get us going into the spring and summer seasons."
Jean Thomas Carolyn's Mother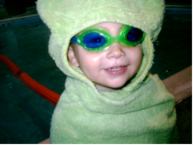 "The Swim Lesson Company teaches without lecturing. The swimmer is allowed to use his or her imagination while sequential skills needed to swim are taught during the process of completing an amusing task. In addition to sincere and specific encouragement, the instructor also uses manipulatives in the pool, which is a particularly effective tactile method to meet the needs of the varied learning styles of each child while making the process of mastering basic swimming skills enjoyable. In the end, those skills begin to fall into place and you will have a child that will learn to swim. As an elementary school educator and a parent of two girls who recently started swimming thanks to the SLC, I am certain that any type of instruction is extremely more effective when it is hands-on, positive, and entertaining. Thus, the swimming skills acquired in this type of environment, as created by the SLC, will be retained and expounded upon in the future".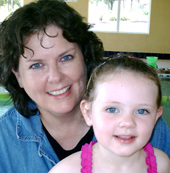 Amy F. Certified Teacher MA Curriculum Instruction
"We would not put our little girl in the car without a car seat and buckled up or would we let her get near water without knowing how to swim. Coach Jim is wonderful--it's like having Mr. Rogers teach your child to swim. Only a parent could teach with that much love."

Rose M. Wessinger, West Columbia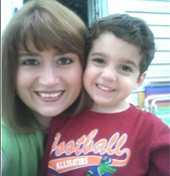 "Thank you for starting a program that offers wonderful instruction with discipline, while providing a fun, family friendly environment. I feel fortunate that I found, and enrolled Brandon in your program. The progress he made since starting your program in June of this year is amazing. Tonight's accomplishment of swimming without his swimmer, was not only exciting for me, but for Brandon as well. I think he asked to call everyone we knew tonight to let them know that he didn't have any more bones! You can only imagine how many times I had to explain that one!
Brandon loves going to swim lessons and talks about them frequently. I had intended on taking a break from the lessons, even to Brandon's despair, but after watching his determination and the strides he made tonight, I realized the break was unnecessary. I asked Brandon if he wanted to have more lessons and his response was, "can we go tomorrow Mommy."
Lauri Bell, Parent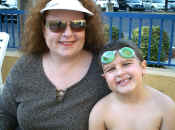 "After two summer sessions and one winter session at the YMCA, my son Jordan still could not swim. FINALLY I FOUND THE SWIM LESSONS COMPANY! The program offers professional instructors who are knowledgeable about every aspect of teaching children to swim. I COULDN'T BELIEVE THE DIFFERENCE! The classes are small and manageable. We attribute our son's ability to The Swim Lessons Company. Our investment has paid off. We are now at ease when Jordan's near the water."
Melissa Cavender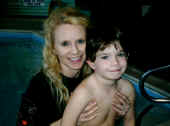 "The Swim Lessons Company has been great. Cameron started as a beginner with Level I, which he loved since they make learning to swim fun. We kept him enrolled throughout the fall and winter so he would be a Level 2 by the summer. It was well worth the money, as he was a solid Level 2 and "swimming like a fish" after the winter session. We are fortunate to have such convenient swim lessons with excellent instructors. I'd recommend The Swim Lessons Company to anyone."
Jennifer Dumont, Northeast Columbia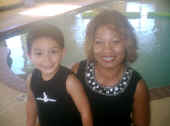 "My son C.J. loves the whole Swim Lessons Company experience and loves Coach Jim. He is at his best with him and enjoys the challenges mentally and physically. To me, it's worth everything to see C.J. swimming and enjoying himself whatever the cost. What I like best about The Swim Lessons Company are the tools that they use to encourage the little ones to swim. The props make swimming fun and easy, and C.J. now swims like a fish and is learning freestyle already. I have met Coach Amanda and Coach Jim and both of them are awesome with the kids. They encourage, motivate, and love kids. It is truly evident in their style of teaching and all the "good jobs," "awesome," and "alrights." It's so good to hear".
Heather Miller, Lexington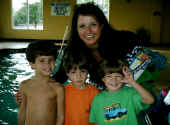 "We love The Swim Lessons Company because it makes learning to swim fun. Our children have always enjoyed going and never feel scared try an activity. Swimming year-round has kept them from losing skills that they learn over the summer. Thanks to The Swim Lessons Company my boys, ages 6 and 4, are extremely comfortable and safe in the water. Choosing The Swim Lessons Company was the best decision we've ever made!"
Calli Hunter, Northeast Columbia
"We enjoy classes with The Swim Lessons Company because of their effectiveness, but also because they make learning to swim fun for all ages. Each class is carefully designed for the age group of the students. Each lesson uses props, songs, and age appropriate learning techniques, all of which help the children learn to swim. AND . . . The results we've seen are TREMENDOUS!"
Kristie Jones & daughter Sophie, Southeast Columbia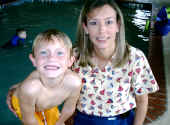 "A friend of mine told us about The Swim Lessons Company and I am so glad she did. My children have learned so much from all the wonderful teachers. I still watch my children while they swim, but I am more relaxed than before. I believe swimming lessons year-round helps your child maintain their skills. My children look forward to each and every class and they get mad when they don't get to go. This has been the best decision I could have made."
Michelle Koen, Chapin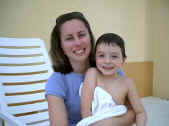 "My son has really enjoyed his lessons and his self-confidence in the water has increased dramatically. Thanks to The Swim Lessons Company, we are looking forward to him joining a swim team".
Isabelle Mandell, Shandon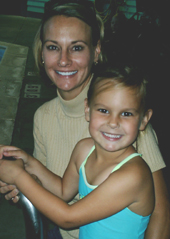 "We love The Swim Lessons Company. Jim & Heather have a wonderful ability to teach young swimmers. My daughter is 4.5 year old and learning proper swimming techniques. As a mother this is the best gift I can give for learning water safety. She looks forward to her lessons and loves the water".
Lisa Roxburgh, Northeast Columbia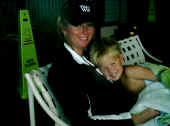 " have three boys, and they all were taught by Coach Jim and The Swim Lessons Company. As a family we love to be by the water whether it's a pool, the lake, or the ocean. So it was extremely important to us that the boys knew how to swim. I highly recommend The Swim Lessons Company to anyone with children of any age. They will not only have a lot of fun, but also they will learn an invaluable skill that will last a lifetime! Columbia is very lucky to have The Swim Lessons Company".
Dana Burke, Elgin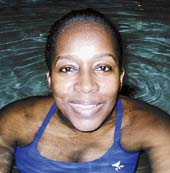 "My two youngest kids (aged 4 & 5 in the summer of 2001) had taken lessons elsewhere the previous year, coming away with not much more than a slightly lessened water phobia. By the end of their four-week session with the SLC, both kids were bragging about how long they could go under water and what lengths of the pool they could swim independently. While part of the improvement was maturity, I credit the largest portion of the change to the approach SLC takes to building confidence and teaching self-sufficiency".
Barbara Rackes, President and CEO Syneractive, LLC
"I like that the class size was small so that the children got a lot of attention. Also, the fact that they were in the water the whole time."
Lisa Sprinkle, Martin's Grove Pool
"The Turner boys will see you next summer. Loved your program, have told many friends. Coach Naomi and Coach Angela were both SUPER. Please let them know Andy and James said so."
Andrea Tuner, very satisfied client
"I just wanted to let you know how much my son has enjoyed and learned from your swimming program. He loves it, and I love the whole approach your coach's use! He is currently in Level 1 and just this past Wednesday began swimming without the Safe-T-Seal. I'd like to sign him up for June and July. Again, Thanks for offering such a wonderful program and original approach to the teaching of swimming."
Debbie Darlington
"My son John Menchinger was given swim instruction by your wonderful staff at the Children's World in West Columbia, I stopped by unannounced to watch one day and was amazed at seeing John at 2 1/2 years old swimming around the pool collecting pool toys! You offer a great program. We will be signing up again this summer!"
Martha A. Menchinger, Midlands Technical College
"Our grandson took your beginners' program last year and really learned how to swim. Not only was the instructor skilled in the actual instruction, but she was great in the motivation of the pupil who had taken lessons before and always found the water too cold, or some other excuse not to participate".
J. Jervey
"Here is my glowing review of what you guys accomplished with Andrew. My son was not making progress with other facilities swim lessons, but once we started with the Swim Lessons Company, he made great progress. He enjoyed his lessons, both at King's Grant and the Columbia College pool, and every teacher really helped him. By age 6, he could freestyle, backstroke and was getting the hang of the butterfly. My 4 year old will start this year as this well-trained staff has proven they can get the job done! Thanks and send me any info you have for the summer program. I'll be looking for your commercials, also!"
Joan Proffitt
"Jake's confidence and skills soared in just one four week session."
P. Kassel
"The learning environment in the SLC 'Learn to Swim' program teaches the children swimming techniques that are not only necessary for learning to be an outstanding swimmer, but also for survival. This program also enforces team work which involves interaction with others as well as just simply to have fun in a structured setting."
Lauren Greer
"My child was not yet three years old when she first started taking lessons in 'Swim with Jim'. She looked forward to her lessons two times a week and it was wonderful to see the progress she made each time. She felt completely at ease with Jim and Heather, they made learning to swim a fun game! By the time her third birthday rolled around, she was swimming without her trainer, and by the time she was four she was able to swim a whole lap of the pool in her first official swim meet! I HIGHLY recommend your swimming lessons!"
Lynn and Martin Roth
"I enjoyed watching my five year old become comfortable swimming in a pool. He was so nervous the first time he went to the swimming lesson, but by the end of this session he was enjoying himself."
Alex Maitland
"Mr. Reiser, the boys are gearing up for their first lesson. We told them last week and they immediately went for their goggles and suits - a week early. Wait till ya see how advanced Timothy (the younger of the two, he only sat and watched Thomas' lessons…now if we can get Thomas to have his interests). Thanks again for getting Thomas in the water that day at Woodcreek Farms."
Patrick Whiddon
"Last year my son Brandon Mack took swimming lessons from you during the July session. He was four years old at the time and it is amazing what he learned during those few weeks. We are so impressed with your program; we are planning to put him in the June and July sessions this year. We are looking forward to seeing your Lexington schedule and hope it is in the same convenient locations it was in last year."
Pat Mack
"My three year old was swimming after one session!"
K. Kirton